Save the Date!  2.15.14!

2014 11th Annual HwH Bowl-A-Thon
CLICK HERE for information, pledge, and registration forms
. . .
2011 Bowl-A-Thon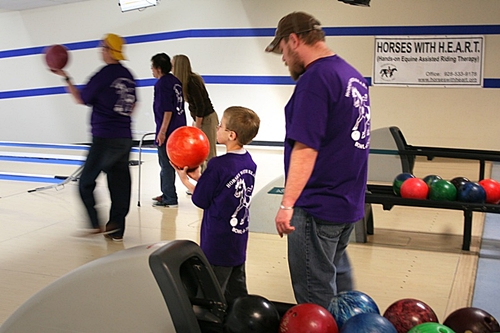 Thank you to all our Sponsors for their continued support and for making the 8th Annual HwH Bowl-A-Thon a great success, as well as Antelope Lanes for hosting.  (Click on photo above for video.)
Thrivent
Kiwanis Club of Bradshaw Mt.
Al A Carte Catering
Spring Hill Suites
Bearizona
Walmart – Hwy 69
Walmart- Gail Gardener
Heritage Park Zoo
Frame and I
Bent H Ranch Products
Grand Canyon Railway
Antelope Lanes

Bent H Ranch
Out of Africa
Prescott Massage Therapy
Prescott Animal Hospital
Bill Owens
Helen Collins
Kay Kryzic
Ethel Peterson
Jan Grise
Bob Wilson
Trudy Chapman-Radley
Funds raised from this event helps transform the lives of children, adults and Veterans in our Community. By encouraging each horseback rider to develop independent skills at his/her own level of ability improving their lives and our community.
. . .
Did you miss…..The Reining Steak!
The Horses with H.E.A.R.T. 1st Annual Steak Cook-Off and Family Fun day took place Saturday, October 2, 2010 at the Five-M Ranch in Chino Valley. 9:00 AM-4:00 PM. Click the photo of the winners to see the movie…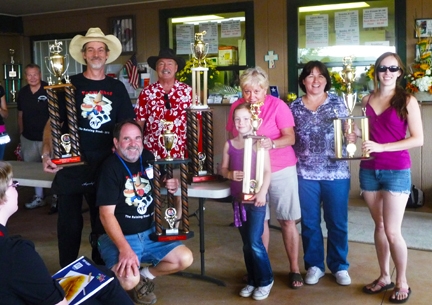 The 1st Annual HwH Steak Cook-Off & Family Fun day was fun for all who joined us in celebrating our stay at the Five-M Ranch and the start of the next chapter of our lives at our new permanent home at the "Gateway to Chino Valley". All funds raised from this event are part of the HwH Capital Campaign and will be utilized in the rebuilding of our covered arena and other capital projects to facilitate the move to our new home.
| | |
| --- | --- |
| Congratulations to Rich Finston First Prize Winner-Steak! Rich won the Trophy, Bragging Rights plus $300. We also congratulate the 2nd place winner – Jim Fitzpatrick of Prescott Valley and 3rd place winner Bob Wilson of Prescott. | |
Thank you to all our sponsors and supporters who made this amazing event possible!
KPPV Radio

for your sponsorship and wonderful coverage
Thank you to the

Heritage Park Zoo

for their sponsorship, support and for the enjoyment and education their animals and team provided.
Kohl's

and

Bradshaw Kiwanis, PV

for their Sponsorship
Thank you to all who worked so hard to make this day a success and fun for all!
Luke Peterson of Monk's, Chuck Roberts of Cattleman's Bar & Grill, Chrys Kinnel from Dry Gulch Steak House and Scott  Stanford from the Texas Roadhouse-judges extraordinaire!

4 Shoes of Chino Valley

Gymkhana Sponsors, Judges, workers and participants

The Texas Aliens band and Desert Rose Dancers who braved the sudden short rain & hail storm and brightened up the afternoon for all

Chino

Jim Radley & Ken Pimentel for the Tractor Show

Maureen Owen & The HwH Petting Zoo Team

Kohl's for their sponsorship and great team of volunteers

Patriot Disposal

Reddy Ice

Sparklettes Water
Horses with H.E.A.R.T Heritage RecipesPremier EditionNOW on sale Over 400 family favorites along with Woof & Hoof tested treats from our pets to yours!

The HwH Heritage Recipe cookbook made it's debut at this event With the holidays coming, think about spreading the joywhile helping Horses with H.E.A.R.T. just by placing this book into several stockings!

Click here for information or to order: admin@horseswithheart.org
Visit http://www.thereiningsteak.com for details and to see more photos of The Reining Steak.
. . .
Horses with H.E.A.R.T. announces Winner of Bill Owen Print!
After six months of entries, the drawing was held the last day of Faire on the Square in Prescott.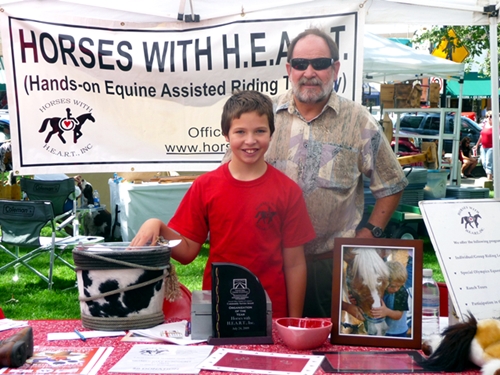 Horses with H.E.A.R.T. rider Tarik McMaster was on hand to draw the winning ticket.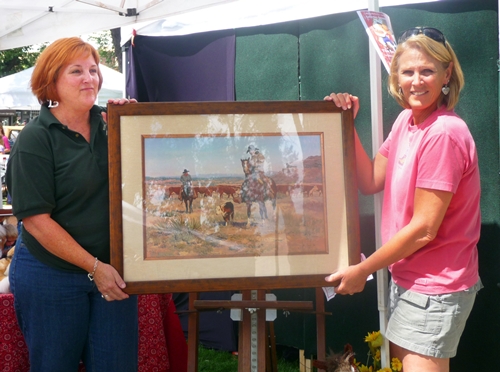 We called our winner, Stephanie Thompson and within moments she joined us at the Horses with H.E.A.R.T. booth in complete astonishment.  Not only did she love  "A Li'l Encouragement", the original Bill Owen print, donated to assist our fundraising efforts by the artist, but she stated, "I have never won anything in my life".
Stephanie was thrilled to have this work by Prescott's own internationally recognized artist, Bill Owen to enjoy in her own home and had "the perfect place all picked out"!  Stephanie works at the VA in Prescott alongside the participants in the HwH Heroes & Horses program.
. . .
Happy Hearts Rodeo 2010
The Happy Hearts Rodeo is held annually in conjunction with the "Prescott Frontier Days – World's Oldest Rodeo". This event is for 25 children with special needs who would like to experience rodeo events. We bring our horses, instructors and volunteers to the Rodeo grounds. The participants have the opportunity to ride our horses in the arena as well as rope the "steer", tie the goat's tail and ride Wooly Bully.

Click Here" to view the 2009 Happy Hearts Rodeo movie!
. . .
Annual Horses with H.E.A.R.T. Special Olympics Horse Show – May 22
Join us on Saturday, May 22nd beginning at 9AM for our annual Special Olympics Horse Show supporting our local athletes and community. The Equestrian Team provides equine sports training and competition horseback riding for those with intellectual disabilities. Horses with H.E.A.R.T. is associated with Special Olympics Arizona (SOAZ). Our coaches are certified through their state office and we use their requirements/policies, forms and insurance. We have the largest S.O. Equestrian Team in the state. They are led by five certified coaches. Riders are not charged for weekly practice sessions or shows.
Plan now to come and enjoy the day with friends, horses and the great outdoors. For more information call 928-533-9178.. . .
| | |
| --- | --- |
| | Just click the photo of Lynn Rubel, HwH Executive Director and her Corgie on your left to view the movie. |
Thank you to our sponsors, the media & the Quad-Cities community!  "Woofs 4 Hoofs" a special event to raise funds for the relocation of Horses with H.E.A.R.T. to their new location near Prescott Valley.  Click the image below :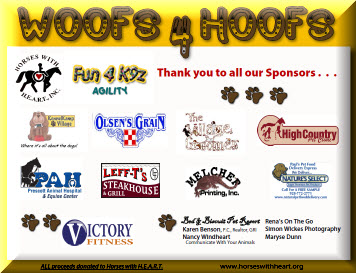 . . .
. . .
| | |
| --- | --- |
| | Click image for more info! |
. . .
13th Annual Ride-A-Thon
Saturday, October 24, 2009 at American Ranch
Click photo to view the Ride-A-Thon 2009 video…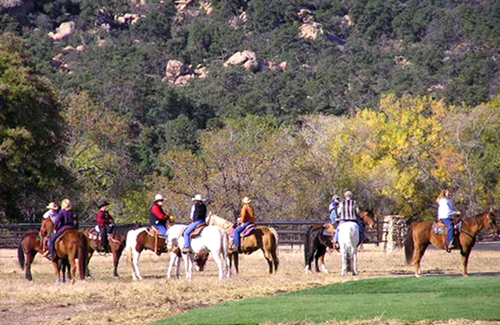 Friends and horses to enjoy a day of beautiful trail riding and support those with disabilities who benefit from Horses with H.E.A.R.T.'s equestrian programs.
Thank you to our 2009 Ride-A-Thon Business Sponsors
American Ranch Community Assoc.
American Ranch Equestrian Center
Antelope Point Industries
Granite Mountain Stables
Four Shoes
Heartfelt Words
Safeway
Sparletts of Central AZ
Texas Roadhouse
Proforma Quality
Imagine
Virginia's Originals
Wal-Mart
. . .
Horses with H.E.A.R.T. is temporarily located at the Five M Ranch, 764 W Road 1 South, in Chino Valley, while we continue to raise funds and search for permanent ranch for our nonprofit.We are looking to purchase 10 acres centrally located in the quad-cities.Please visit the Capital Campaign page for more information or call 928-533-9178.
. . .
Please click Newsletter for our latest quarterly information.