12th Annual Bowl-A-Thon – February 14th 2015

   Location:  Antelope Lanes, Prescott Valley
Fun, Food, prizes……and all proceeds will again be used to provide scholarship assistance to our riders.  Single and Team Registrations available. 
Click here to download details plus Registration, and Pledge Forms
Click here to see the 2014 Bowl-A-Thon…..don't miss the fun-register for 2015 today!
---

An open letter to all our Volunteers, Sponsors, Vendors, Riders and Participants and our Community,
"Thank you" is not nearly enough to express our appreciation for sharing the 20th Anniversary of Horses with Heart with us. "Rock-in at the Ranch" was our first event at our permanent facility and without all of your participation, we could not have succeeded. We are thrilled with the outpouring of community support and the ongoing investment you all have made in HwH and our community.

The comments from attendees were overwhelming positive. They loved all of you! Thank you for making all our guests and participants fe
el so welcome and so loved. They said the "food was awesome", that they could have "listened to each of the bands all day" and that the parking was terrific and so very well organized. We think so too! We had great comments on our riding demonstration for the riders, instructors and those people who they didn't know what they were doing until our Director and Instructors explained side-walking and leading to the audience.
All funds raised from this event will be used to support our programs assisti
ng riders from 4 to 84 with varying special needs, abilities and capabilities. Please click the link to the slide show of images from "Rock-in at the Ranch". We hope it will bring back the same wonderful memories for you as it already does for us and will for years to come.
We are blessed to have you all as part of the Horses with Heart family and look forward working with you all year and again at "Rock-in at the Ranch ll" in 2014.
Our sincerest thanks on behalf of our Board of Directors and entire HwH Team,
 Pam Berry
, Executive Director
 Karen Richer
t, President  
Arlene Alen
, Vice-President -Marketing & Development Director  
Please support our Sponsors!
Olsen's Grain, Drill Tech, West Yavapai Guidance Clinic, Prescott Animal
Hospital, Infinity Feeds, Bonn Fire, Prescott Regulators and Their Shady Ladies, Inc, Mile Hi Horseshoe Club, Freeman Farms, Mile High Clydesdales, Saguaro Miniature Horse & Shetland Pony Club, The Rusty Pistols Cowboy Band, The Chris & Jimmy Show Band, The Not Quite Right Band and The Kiwanis Club of Bradshaw Mountain.
---
Horses with H.E.A.R.T. 2013 Capital Campaign…
…a "Pathway to Hope".  Personalized memorial bricks surrounding the peaceful gazebo soon to be relocated to our new home at the Gateway to Chino Valley. Your lasting memorial to a loved one will honor them for generations to come as well as beautify our Horses with H.E.A.R.T. permanent home, where disabilities become possibilities.
These possibilities include an autistic child unclenching his fist for the first time in order to pet his horse; a paraplegic who is finally able to hoist herself onto a horse; and a non-verbal child talking for the first time – giving his horse the command to "walk-on", a Senior riding for the first time or a returning Warrior in our Heroes & Horses program regaining the ability to live a full life.
These are profound moments all caused by the therapeutic relationship between the horse and rider. Partner with us through your memorial brick and help us build our community!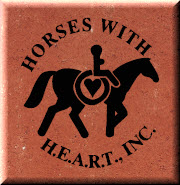 Click the brick for more info & form
---
Happy Trails Horse Experience (mixed disabilities)
 Held during the summer, these one to three half-day experiences offer riders an opportunity to learn about horses, from the ground up. Safety, horse care – including grooming, ground skills and showmanship, games, riding and crafts are the major highlights of each day. Participants bond with "their" horses and often return home telling stories about their new, best friends.
---
With Gratitude .  .  .
The Prescott Daily Courier and Prescott Valley Tribune were instrumental in assisting Horses with Heart and their partner Neighbor to Neighbor in creating a successful FUNdraising event, Sequins & Saddles.  We are blessed to serve a wonderful community and offer our most sincere "Thank You" to the media, businesses and residents of the Quad-Cities who came out in force for Sequins & Saddles. There were several tables sold to people unfamiliar with our programs as a direct result of reading the story of the event and organizations in the newspapers and thinking it would be a "fun event and a wonderful way to help the community". They were a great addition to the event and helped make it a fantastic and lively evening for us all.
Most nonprofits today are constantly in need of funds and volunteers and these two organizations are no exception.  The "Old Fashioned Pie Auction" at the event facilitated by Harris Auctions exceeded our expectations both in fundraising and FUN. Music by the Rusty Pistols was marvelous and so enjoyable many of the guests stayed late to enjoy the band. Without the Prescott Rodeo Junior Court and the Shady Ladies Extraordinaire, the evening would not have been nearly as colorful and of course a special thank you to Buttercup and her team of handlers.  Hugging a pony and taking photo's to share with friends and family was a hit with all.  Buttercup would have loved to join the group for dinner, but the great team at the StoneRidge Grill just snuck her treats all night on the patio as did many of our guests.
Our Sponsors for this event were generous with their time as well as support and we are grateful to Drill Tech, our Premier Sponsor, CakeWorks Library Café, Harris Auction, Prescott Animal Hospital, Carol Chamberlain & Ken Mabarak and Helen Collins.
We hope for your continued support of our organizations, missions and our community.
---
Did you miss the best Happy Hearts Rodeo ever?
Click here to view the movie and be certain to volunteer next year!
---

If you missed this great event…click here to view the movie
. . .
Congratulations Trudy!  2011 PATH Intl. Instructor of the Year!

. . .
The great news you have been waiting for…
The Earth Has Moved!. . .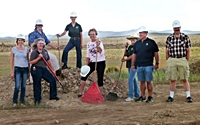 on our new home! Soon Horses with H.E.A.R.T. will begin the move to the new ranch at the Gateway to Chino Valley.  The footings for our arena cover have been poured and work has began in earnest.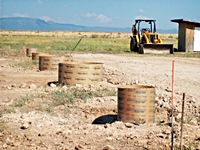 Watch your email for news and updates on classes, seminars and events at our Permanent Home and the Pathway to Hope.
. . .
New Program!  "Silver Saddle"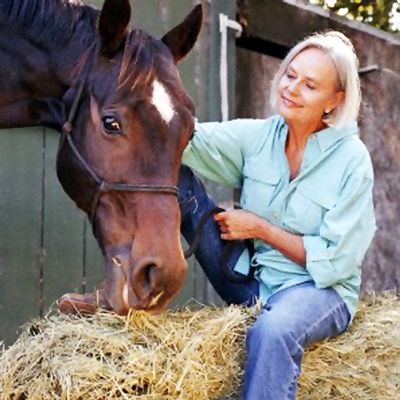 The Silver Saddle program is as an opportunity for people in the tri-city area 55 years and older to participate in a program of horse riding instruction and education in the proper care and handling of horses. Silver Saddle classes can improve balance, flexibility and endurance; promote social connection; and offers seniors a sense of meaning, mastery and connection with others, including education and the experience of a connection with another living being, by developing a relationship with the horse. It is hoped that every rider enjoys a safe, happy horsemanship experience and progresses to the level of achievement that they wish to attain.
The Silver Saddle program is offered on Monday afternoons from March through November. There are four six-week sessions during this time frame. Each six-week session is $180. There are two classes each Monday afternoon; one for beginners and a second one for intermediate to advanced riders.
Please contact Horses with H.E.A.R.T. at 928-533-9178 if you are interested in participating. You may register for a class by clicking on DOCUMENTS & FORMS. Please complete the rider forms, "Rider Registration and Release Form" and the "Rider Welcome Letter" and mail to Horses with H.E.A.R.T., P.O. Box 2427, Chino Valley, AZ 86323. When completing the forms please ignore lines that do not apply to you. Also keep in mind that the fee for the Silver Saddle program is $180 for the six weeks even though it is a group program. NOTE: The medical form needs to be signed by your physician prior to the first class and are good for two years.
. . .
Happy Hearts Rodeo 2011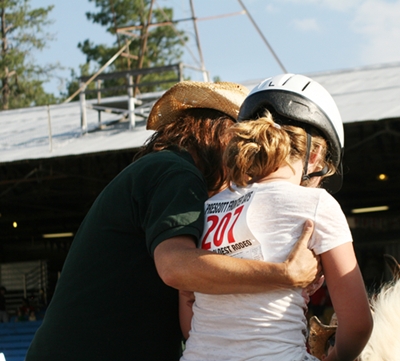 Click the photo for the 2011 Happy Hearts Rodeo Video
. . .
Horses with H.E.A.R.T. has a New Home!
On June 29, 2010, it became official, Horses with H.E.A.R.T. has closed escrow on their new home. Located at the "Gateway to Chino Valley" just a few minutes from the airport and central to all area transportation corridors this property is a dream come true for the organization. Starting immediately, Horses with H.E.A.R.T. begins the process of building our dream. We have a lot of work to do before we can move, but we're excited and re-energized as we start the newest phase of our adventure.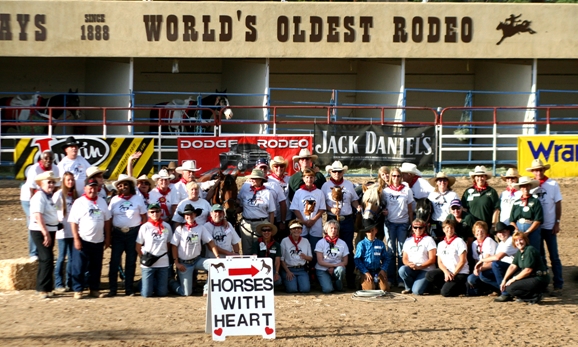 The HwH volunteers will be working diligently toward moving from our current location at the Five-M Ranch to our new permanent home just off S. Hwy 89. We want to thank all our long-time supporters, sponsors, volunteers, friends, media advocates and the entire Quad-City community for your ongoing support and encouragement in this journey to a permanent home. This will be the Hands-on Equine Assisted Riding showcase for Northern Arizona.
A Special "Thank You" to the Arizona Diamondbacks for their generous $100,000 grant which has been a tremendous aid in moving forward with this purchase.  Without their help and the ongoing support and financial aid of the Pimentel Family Trust our dream would have remained just that.  Additional "Thanks" for the love and support of the Five-M Ranch who took us in and allowed us to utilize their facilities after a real estate exchange forced our sudden relocation form our long-term Dewey site. We sincerely appreciate the care, concern, diligence and donations from The Booker Group, PLLC and Keller Williams Check Realty, Miki Nakajima & Doug Bunch.
The past few years have been extremely difficult for our clients without the ability to have our arena cover up and resulting in us having to contract some of our programs. In a few months we will arrive at our new "Gateway to Chino Valley" destination and be able once again to expand our services and programs.
On October 2, 2010 at the Five-M Ranch, we will be celebrating the start of this journey with our 1st Annual HwH Steak Cook-Off and Family Fun Day, "The Reining Steak. Look for great things to come at Horses with H.E.A.R.T. at our new home, 2705 S. Highway 89, on the east side next to the Chino Golf Range.
. . .
Mission Statement
Our Mission is "to provide a safe and enjoyable equine experience for people with physical, mental, and emotional disabilities and encouraging each rider to develop independent skills at his/her own level of ability."
. . .
More about us…
Since 1993, Horses with H.E.A.R.T. has served those with disabilities in Yavapai County, Arizona. In 2008, we provided 236 individuals of all ages with a therapeutic equine experience – grooming, leading and/or riding.  This was made possible by 218 volunteers, 15 specially-trained equines and12 Directors on the Board.
We invite you to become involved or support our 501(c)(3) nonprofit, the place where disabilities become possibilities. These possibilities include an autistic child unclenching his fist for the first time in order to pet his horse; a paraplegic who is finally able to hoist herself onto a horse; and a non-verbal child talking for the first time – giving his horse the command to "walk-on". These are profound moments all caused by the therapeutic relationship between the horse and rider.
---
Please note: all document downloads require Adobe Reader to view.
You can click here

for a free copy.
---

visitors since Feb 15, 2009